Accessing Government Eye Care Services: Expriences of Children With Eye Health Conditions in Mubende, Uganda
Abstract
Background: Apart from parents reluctance towards childrens early eye-care, government eye care services are costly, few ophthalmologists are in place, yet people suffering from eye infections are increasing. This study aimed to explore the response of parents towards exposing their children with eye health conditions to early eye care services, the efficiency of eye care services offered and the costs involved in accessing eye care services.
Subjects and Method: This was a qualitative study with in-depth interview. Conducted in Mubende, Uganda, from June 2019 to May 2020. A total of 12 informants were selected by purposive sampling. The data were collected using semi structured interviews from 12 participants involving children with eye health conditions and one (1) ophthalmic Officer (OCO). Investigator triangulation method was used whereby each participant was interviewed by more than one investigator as a way of obtaining several differing opinions concerning issues in question. The transcribed data were analyzed using content analysis.
Results: The findings indicated that, parental responsibility for children with eye health conditions for early assessment, diagnosis and treatment was generally lacking among fathers than among mothers. Poverty, illiteracy and ignorance among parents, use of traditional herbal treat­ment of eyes often resulted in serious consequences. Regarding efficiency, there were a lot of hardships in accessing the eye care services due to limited eye care centres, inadequate skilled or specialized personnel and irregular attendance by medical staff in government eye-care centres. The eye health care services were found to be expensive and unaffordable by the community.
Conclusion: The study concluded that overall, opportunities for visual assessment, diagnosis and treatment for children with eye health conditions in Mubende District were generally limited. Comprehensive eye care services that covers every member of the community are highly recommended.
Keywords: eye-care services, eye health conditions, Mubende-Uganda
Correspondence: Odette Tumwesigye Niyisabwa. Department of Community and Disability Studies, Kyambogo University. Kyambogo Road, Kampala, Uganda. Email: niyisabwa.odette@gmail.com. Mobile: +256772968235
Journal of Health Promotion and Behavior (2021), 06(02): 121-132
DOI: https://doi.org/10.26911/thejhpb.2021.06.02.05
References
Acton A (2011). Vision Disorders: Advances in Research and Treatment. Atlanta, Georgia: Scholarly Editions.
Amiebenomo OM, Achugwo DC, Abah I (2006). Parental knowledge and atti-tude to childrens eye care services. Niger. J. Paediatr. Vol. 43, No. 3:217. DOI: 10.4314/njp.v43i3.11
Andre JM (2016). Africa needs a sustainable solution to deal with cataract blindness. School of Medicine, Aix-Marseille Université (AMU).
Baviskar K (2006). Nature Cure in Eye Care. New Delhi: B. Jain Publishers (P) Ltd.
Bechange S, Jolley E, Virendrakumar B, Pente V, Milgate, J, Schmidt E (20-20). Strengths and weaknesses of eye care services in sub-Saharan Africa: a meta-synthesis of eye health system assessments. volume 20, Article number: 381. DOI: https://doi.org/10.11-86/s12913-020-05279-2
Binder SP (2018). Uganda: Creating sustainable eyecare. International Presen-tation spotlight. EyeWorld. https://-www.eyeworld.org/
Brien Holden Foundation (2021). Why optometry for uganda? Kampala. Brien Holden Foundation Publications.
Ebeigbe JA (2016). Factors influencing eye‐care seeking behaviour of parents for their children in Nigeria. DOI: https://doi.org/10.1111/cxo.12506
Ezegwui IR, Umeh RE, Ezepue UF (2003). Causes of childhood blindness: results from schools for the blind in South Eastern Nigeria. Br. J. Ophthalmol; 87: 20–23.
Geneau R, Massae P, Courtright P, Lewallen S (2008). Using qualitative methods to understand the determinants of patients willingness to pay for cataract surgery: a study in Tanzania. Soc Sci Med. 66:558–68. DOI: 10.1016/j.socscimed.2007.09.016.
Gustafsson J (2017). Single case studies vs. multiple case studies: A comparative study. Halmstad: Academy of Business, Engineering and Science, Halmstad University.
Hugenholtz M, Broer C, Van Daalen R (2009). Apprehensive parents: a qualitative study of parents seeking immediate primary care for their children. Br J Gen Pract 2009; 59: 173–179. DOI: https://doi.org/10.3399/bj-gp09X394996
Ibrahim N, Pozo-Martin F, Gilbert C (2008). Direct non-medical costs double the total direct costs to patients undergoing cataract surgery in Zamfara state, Northern Nigeria: a case series. BMC Health Serv Res. 2015.15:163. DOI: https://doi.org/10. 1186-/s12913-015-0831-2
Institute for Health Metrics and Evaluation–IHME (2014). Health Service Provision in Uganda: Assessing Facility Capacity, Costs of Care, and Patient Perspectives. Seattle, WA: IHME.
Kaggwa G. (2014). Ophthalmic clinical officers: developments in Uganda. Community eye health, 27(86), 34.
Kovai V, Krishnaiah S, Shamanna BR (2007). Barriers to accessing eye care services among visually impaired populations in rural Andhra Pradesh, South India. Ind J Ophthalmol 2007; 55: 365–371. DOI: 10.4103/0301-47-38.3823.
Magyezi J, Arunga S (2020). Eye care where there are no ophthalmologists: the Uganda experience. Community eye health journal, volume 33, number 110:48-50.
Mbonye AK (2003). Prevalence of childhood illness and care seeking practices in rural Uganda. Science World Journal. 19:721–730. DOI: https://doi.org/10.1100/tsw.2003.52
Ministry of Education and Sports – MOES (1994). Awareness course in Special Education. Kampala: Government of Uganda.
Ministry of Health (2016). Guidelines for eye care. Kampala: MOH publications.
Oysters and Pearls Uganda (2020). Help for Ugandan Blind. Kampala Oysters and Pearls. http://www.oystersandpearls.org Retrieved 27th March, 2021
Palmer JJ, Chinanayi F, Gilbert A (2014). Mapping human resources for eye health in 21 countries of sub-Saharan Africa: current progress towards VI-SION 2020. Hum. Resour. Health. 12:44. DOI: 10.1186/1478-4491-12-44
Public Health Report (1999). Public Health Reports: Evanston: Northwestern University, No. 1, Volume 114.
Ravilla T, Courtright P. Melgar JFY, Green D (2019). Affordability and Financing for Eye Care. Springer Nature Switzerland. https://www.researchgate.net/publication/329626713. Retrieved 30th march 2021
Schwab L (2007). Eye Care in Developing Nations. Boca Raton, Francis and Tay-lor Group, CRC Press. DOI: https://doi.org/10.1201/b15129
Senthilkumar D, Balasubramaniam SM, Ku-maran SE (2013). Parents awareness and perception of childrens eye diseases in Chennai, India. Optom Vis Sci 2013; 90: 1462–1466. DOI: 10.10-97/OPX.0000000000000084.s.
Sudharsanam MB, Rotti SB (2007). Factors determining health seeking behaviour for sick children in a fishermen community in Pondicherry. Ind J Commun Med 2007; 32: 71– 72. DOI: 10.41-03/0970-0218.53411.
Taffa N, Chepngeno G (2005). Determinants of health care seeking for childhood illnesses in Nairobi slums. Trop Med Int Health 2005; 10: 240–245. DOI: 10.1111/j.1365-3156.2004.01381.x.
The children statute (2016). The Republic of Uganda: The children statute. Kampala: Parliament of Uganda. Accessed at ILOhttps://www.ilo.org. ELEC-TRONIC UGA104395. Retrieved 5th April, 2021
Vision (2020). Vision 2020: The right to sight. (Accessed March 15, 2021, at http://www.vision2020.org/main.cfm).
World Health Organization (2007). Vision 2020: The Right to Sight. Global initiative for the elimination of avoidable blindness. Action plan 2006-2011.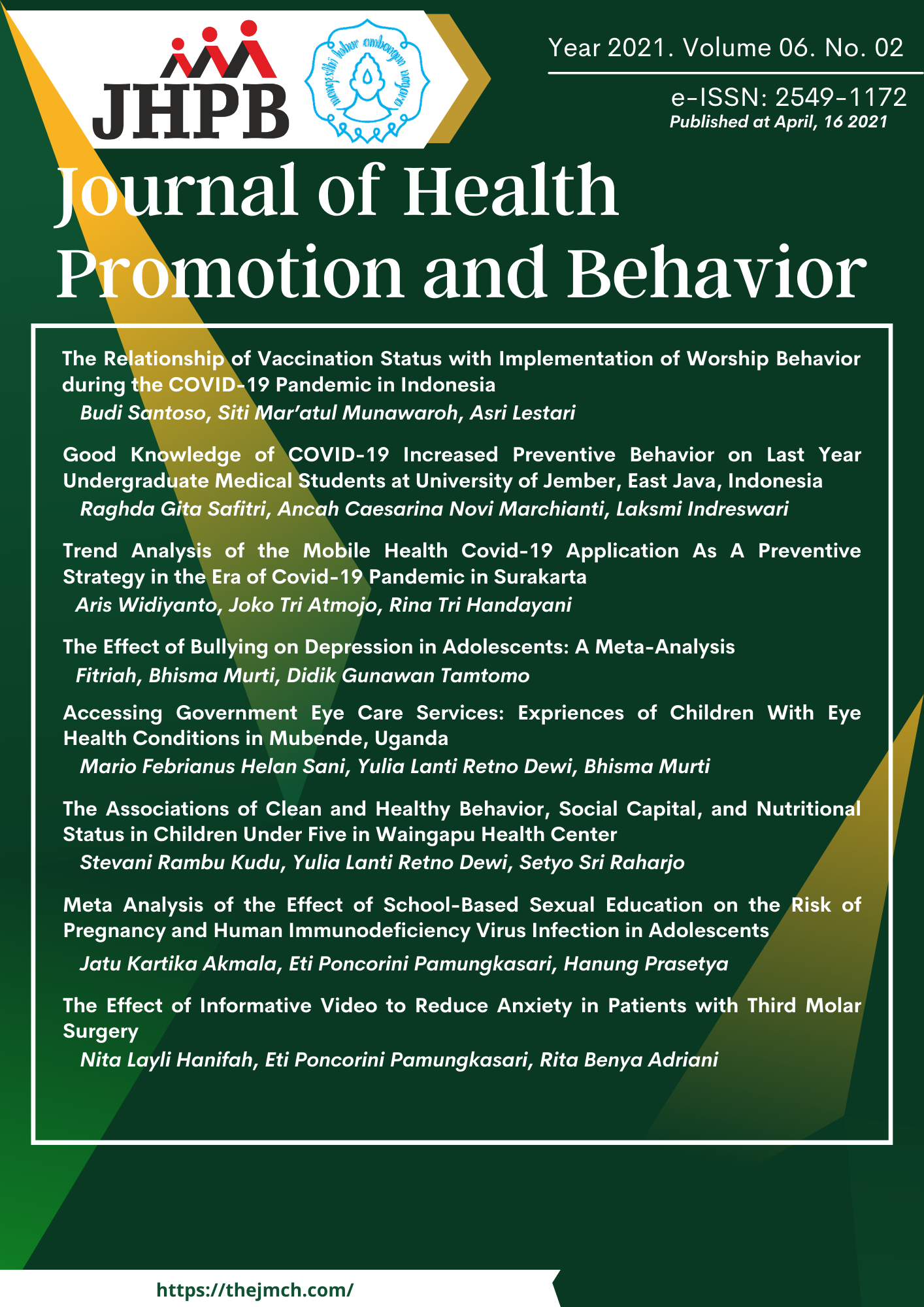 Downloads
How to Cite
Niyisabwa, O. T., & Musenyente, E. (2021). Accessing Government Eye Care Services: Expriences of Children With Eye Health Conditions in Mubende, Uganda. Journal of Health Promotion and Behavior, 6(2), 122–132. Retrieved from https://thejhpb.com/index.php/thejhpb/article/view/293